For Educators
In-Person and Virtual Field Trips are available.
Twelve million years ago a supervolcanic eruption in southwest Idaho blanketed northern Nebraska with glassy volcanic ash. This catastrophic event resulted in the death of much of the wildlife. Today the remains of barrel-bodied rhinos, three-toed horses and llama-like camels are still buried in volcanic ash at the Ashfall Fossil Beds. Dozens of perfectly preserved fossil skeletons have been revealed and are on display in the Hubbard Rhino Barn.
New! Virtual Field Trip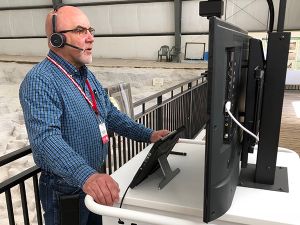 Visit "one of the wonders of the natural world" without leaving your classroom. No need to schedule transportation or pack a lunch to visit Ashfall Fossil Beds State Historical Park. Our educators and scientists interact with your students through our live, interactive videoconferencing program.
The 30-minute tour, provides a close-up view of these amazing fossils. Our educator presents an overview of the discoveries made at the Ashfall Park and steps into the fossil bed to give the participants a first-hand look at some of the rhino, horse and camel skeletons there. Time is left for plenty of questions!
Virtual Field Trips can be scheduled mid-March through mid-November.

---
The Rhinos of Ashfall Fossil Beds
---
In-Person Tour Visit
School and tour groups may make arrangements to visit Ashfall between April 1 and October 20 with advance reservation.
A visit to Ashfall is an unusual educational experience. A tour leader provides an orientation and full description of the fossil bed exposed in the Hubbard Rhino Barn.
Please read UNL's Youth Safety Policy before reserving your group.
Full description of student tour:
Activity Sheet Downloads:
Other Downloads: