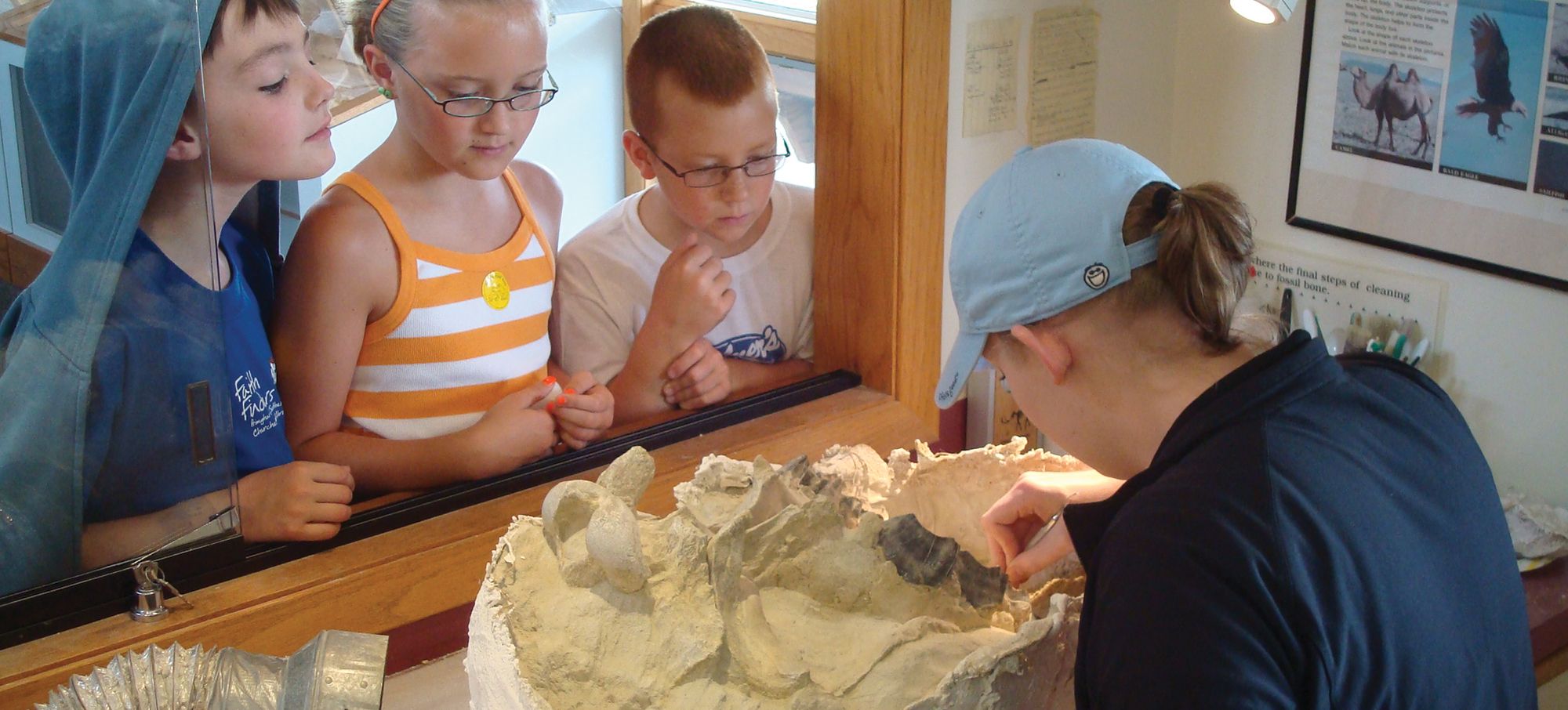 Visit
Hello, and welcome to Ashfall Fossil Beds. Please note, we've recently made some changes to our facility for the safety of visitors, staff and researchers. In addition to increased cleaning measures, certain exhibits within the park are closed or operating under adjusted procedures. Additional details on park amenities and rule changes are listed below. 
Ashfall Fossil Beds is an active research and dig site. Collecting fossils or other specimens on the park grounds is strictly prohibited. 
Public Hours:
We are taking measures to focus on the health and well-being of our visitors, staff, students and the community. Because of this our new, limited hours are Wednesday through Saturday 9:30am–4:30pm, Sunday 1:30pm–4:30pm. We are closed Monday and Tuesday.
Ashfall will close for the season on October 12.
Amenities and Exhibit Closures
The following portions of the park remain open to visitors: 
Hubbard Rhino barn is open to view the fossil bone bed. Student paleontologists are at work and able to interpret the site and answer questions.
Nature and geology trails remain open for walking and exploration.
Restrooms in the park are open. (Please wash hands after use.)
Bronze statues will remain open for viewing and photo opportunities.
The following portions of the park will be closed or operating with restrictions:
All kids dig and sandbox areas will be closed until further notice. 
The picnic pavilion will be open with limited capacity and social distancing of tables. Additional shade spots will be available throughout the park. 
Interactive exhibits within the Visitors' Center will be closed until further notice.
The gift shop inside the Visitors' Center will be open but operating with a limited inventory as well as a view, not handle, purchase policy. Credit cards are the preferred payment option.
Water fountains will be inaccessible. However, water bottles will be available for purchase in the gift shop. Guests are encouraged to recycle bottles in provided canisters. 
Admission (includes taxes):
Advance ticket purchase is required.
Tickets are sold on a timed basis each day. A limited number of tickets will be available beginning in the last half of each hour, with final tickets available at 3:30 pm each day. 
| | |
| --- | --- |
| Adults, children 3 and older | $7.50 per person |
| Children under 3 | FREE |
| UNSM Membership (valid membership card must be presented upon arrival) | FREE |
| Valid Nebraska Park Entry Permit required | Permits should be purchased in advance. You may purchase one now from Nebraska Game & Parks. |
Social Distancing
Guests are encouraged to wear face coverings when on site.
Disposable face masks will be available upon request. Donations to cover masks are appreciated. 
Guests are requested to adhere to social distancing practices and maintain 6 feet between themselves and other parties. Rhino footprints on walkways throughout the park will serve as distancing guides. 
Hand sanitizer will be available at stations throughout the park. 
Location
Ashfall Fossil Beds is located 2 miles west and 6 miles north of Royal, Nebraska. See on Google Maps.
ACCESSIBILITY
Facilities are wheelchair accessible.