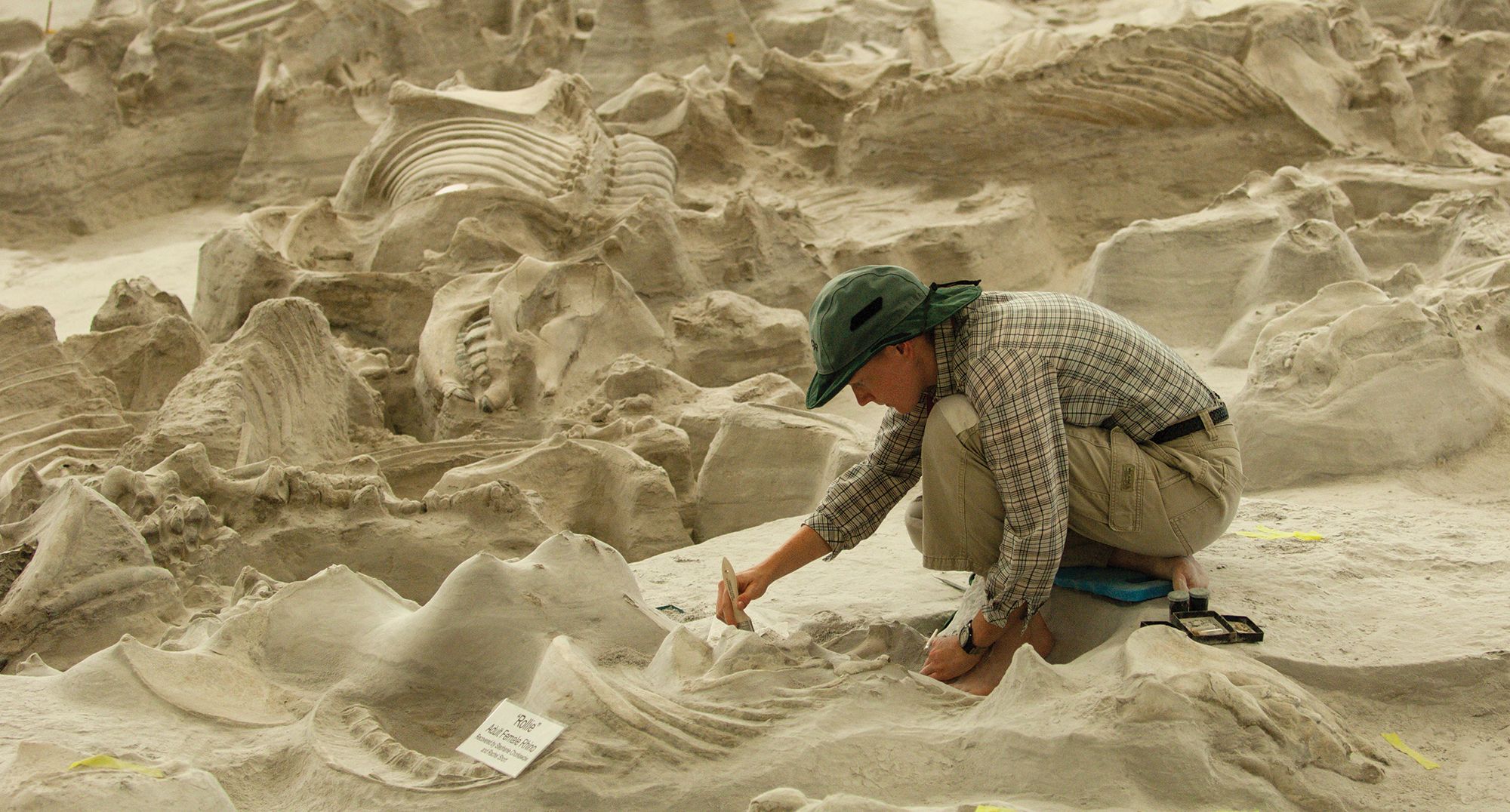 About Ashfall
Geology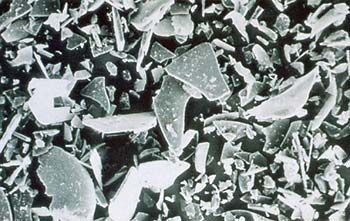 All Ashfall skeletons are buried in a bed of pure volcanic ash. Volcanic ash consists of tiny shards of glass from broken glass bubbles. These glass bubbles form and then break apart during powerful volcanic eruptions.
The ash particles are small enough to have been breathed deeply into the lungs of animals when volcanic ash blanketed northern Nebraska 12 million (12,000,000) years ago.
At the Ashfall fossil site in northeast Nebraska, the ground beneath the soil looks something like this in cross-sectional view.
Sedimentary rock layers (strata) contain fossils that reveal clues to environmental conditions and the animal life of specific times in the past. The particles of sediment that make up the rock reveal clues about the environmental setting and how the rock was deposited.

An aerial view

An aerial view of a portion of the Ashfall Fossil Beds site. This photo was taken during the Park's development and shows a series of 6-meter sampling grids laid out on the newly-exposed surface of the ash bed. The overburden (sand and sandstone) and the upper 3 to 5 feet of volcanic ash have been removed, leaving the fossils safely buried under another 5 feet of ash. The original Rhino Barn (not yet built when this photo was taken) covered the area at the bottom of the picture. Exploration has indicated that this is a very small portion of the actual bone-bed. Much work remains to be done here, and many more exciting discoveries will be made in the future, perhaps even while you are watching!

Ashfall rhino herd

Within this view are the rhinos "Amy" and "Dr. Marie", a small three-toed horse (Pseudhipparion), a small deer-like animal (Longirostromeryx), a camel, and numerous scattered bones. "Dr. Marie" was named after the person who first described the abnormal bone growth associated with severe lung damage or disease. This condition is occasionally found in living animals and humans, but is seldom seen in fossils. Because it is present in every animal found at Ashfall, however, it is likely that the lung damage was caused by breathing large quantities of volcanic ash.